AUTHENTIC CUT SIGNATURES OF

TARZAN, BOY AND JANE
from my own collection.

Johnny Weismuller, Maureen O'Sullivan and Johnny Sheffield.

A great piece of Movie Memorabilia

THE ORIGINAL TARZAN & JANE

Cut Size 3 x 3"



Johnny Weissmuller broke three records at the 1924 Olympics in Paris, and was the world's greatest swimmer after turning professional. He is best known for his role as Tarzan, and though other Tarzans existed before and after Johnny, none were as popular with the movie-going public. Tall and handsome, Johnny was the perfect star of the Depression era, when people needed a hero to look towards for encouragement, and his charm and talent kept him a favorite for many more years to come.
Born in Freidorf, Austro-Hungary on June 2, 1904 (he often claimed to have been born in Windber, Pennsylvania), Johnny Weissmuller emigrated with his parents to the U.S. as an infant. The family eventually wound up in Pennsylvania, where Peter Weissmuller worked as coal miner. The family moved again to Chicago; a sickly youth, Johnny Weissmuller took up swimming in Lake Michigan to build strength. By the time he entered the University of Chicago in 1922, the 6'3" young man had become an excellent swimmer, ultimately leading him to the Olympic Games in 1924 and 1928. He won five gold medals and set numerous world records.
By the mid 1950s, Weissmuller grew weary of acting and retired to Florida. He made only a handful of film and TV appearances in the ensuing years. In the later 1970s, he suffered a series of strokes and other health maladies. After moving to Acapulco in the early 1980s, he passed away there in January 1984 at the age of 79. He was survived by his fifth wife, a son, and a daughter.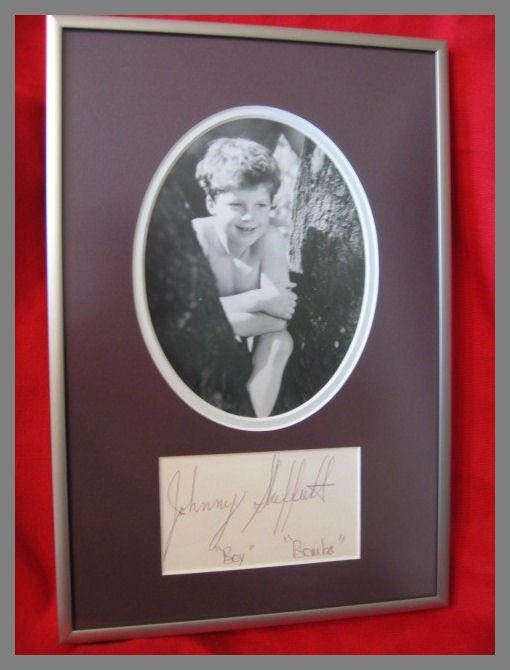 DULL BRUSHED METAL FRAME 8 X 12" uv Protection Glass
Reading for Hanging


Child star Johnny Sheffield was the son of British actor Reginald Sheffield, himself a former juvenile performer (he played the title role in the 1913 cinemazation of David Caperfield). A wan, sickly infant, Johnny's health and physical stamina was beefed up by a strict exercise regimen supervised by his father. At age 7, Johnny co-starred in the original Broadway production of On Borrowed Time This brought the young actor to the attention of the MGM casting department, which was looking for a suitably athletic child to play Boy in the studio's pictures.
Beginning with 1939's
Tarzan Finds A Son
Sheffield
played Boy in eight "Tarzan" programmers, remaining with the series when it shifted its base of operations from MGM to RKO. After a brief period of unemployment, the 17-year-old
Sheffield
was cast as the lead in Monogram's
Bomba The Jungle Boy
series, which endured for three years and twelve low-budget pictures.
Sheffield
decided to retire from acting in 1955. He sank his film earnings into real estate -- growing quite wealthy in the process -- and enrolled as a pre-med student at UCLA. When last heard from,
Sheffield
was living in happy retirement, overseeing his numerous real estate holdings.
Cut size 3 x 5 "




Educated in London and Paris, the breathtakingly beautiful Maureen O'Sullivan was discovered for films by director Frank Borzage while both were attending a horse show in Dublin. She made her screen debut in 1930 opposite Irish tenor John McCormick in Song O' My Heart, which earned her a contract with Fox studios. After appearing in such Fox blockbusters as Just Imagine (1930) and A Connecticut Yankee (1931), she moved to MGM, where her first assignment was the role of Jane Parker in Tarzan the Ape Man (1932). She repeated this characterization in Tarzan and His Mate (1934), causing a minor sensation with her bikini-like costume and a nude swimming scene. Somewhat more modestly garbed, she went on to co-star in four more Tarzan pictures over the next eight years.

Though MGM kept her busy in a variety of films, ranging from such costume dramas as The Barretts of Wimpole Street (1934) and David Copperfield (1935) to the Marx Brothers' A Day at the Races (1937), she is best remembered for her appearances as Jane, a fact that has been a source of both pride and irritation for the actress (she liked her co-star Johnny Weissmuller and the chimpanzee, who bit her more than once). She retired from films in 1942 to devote her time to her husband, director John Farrow, and her many children, two of whom grew up to be actresses Mia Farrow and Tisa Farrow.

She returned to the screen in 1948, averaging a film every two years until 1958. An early arrival on TV, she hosted a local children's program in New York and the syndicated series Irish Heritage, and in 1964 was hired by NBC to co-anchor The Today Show (her replacement the following year was Barbara Walters). In 1964 she starred with Paul Ford in the Broadway production Never Too Late, playing a forty-something suburbanite who suddenly finds herself pregnant; the following year she and Ford repeated their roles in the screen version.

Widowed in 1963, she remarried 20 years later, sporadically reviving her screen activities in such films as Hannah and Her Sisters (1985), in which she and Lloyd Nolan played the combative parents of her real-life daughter Mia Farrow. As regally beautiful as ever, Maureen O'Sullivan showed up again on TV in the mid-'90s as one of the interviewees in a Tarzan retrospective.








Cut Size 2.5 x 4"



If you're in our neck of the wood please visit our studio at:
Movies Music and Things
182 West 6th St.
Rutherfordton, NC 28139
QUESTIONS
TOLL FREE EAST COAST TIME: 1-800-706-1088

PLEASE EMAIL ME
We accept all major credit cards
PAYPAL

Contact us for any payment questions